We can change the world -
provided that we give each other the same opportunities
Many social ills such as health problems, violence, vandalism and even road safety can be remedied by increasing gender equality.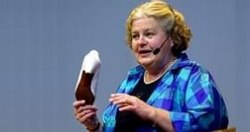 Kajsa Wahlström is one of Sweden's leading experts in gender equality. Through her research and work at her preschools in Gävle, she developed a unique and highly effective method for working with gender equality. This method has since been proven to function as effectively in organizations and companies, and has made Europe and potentially the rest of the world her sphere.

With the joy, humour and creativity she brings to this very important issue, Kajsa holds lectures and courses in providing leadership for gender equality and equal treatment at companies, municipalities, county councils, schools, preschools, churches, interest groups, universities, etc.

Enter here to read more about how you can learn the method that will change your group, your company or organization and ultimately the world!

The approach used in most groups today creates at least five "outsider members". These people become less and less visible in the group and ultimately suffer a loss of self-esteem.

When the group's leader unwittingly allows this to happen in their group, it sends a strong message to all the others in the group. Those to whom power is ascribed and who, through the leader's behaviour, are made the protagonists of the group, develop their own rules and use their power to give themselves advantages and keep the others oppressed.

This creates a perfect breeding ground for bullying, because everyone "knows" that it is OK to leave some people on the outer.
Girls, boys and teachers
Teaching for equal opportunity in practice

In this book, Kajsa Wahlström describes and discusses the observations made by her and the other teachers at the preschools Björntomten and Tittmyran of the preschool's activities.

With frightening clarity, they found that the teachers themselves were contributing to girls and boys being given different opportunities, despite the fact that their ambition was to do the opposite.

Order book from Adlibris
Flickor, pojkar och pedagoger
224 SEK incl. VAT

Order book from UR
Flickor, pojkar och pedagoger
247 SEK incl. VAT
when they began to work actively with gender equality and the leader began to use her power in a positive way to engender a sense and feeling of community – then everything changed for the entire group. There were no longer five "outsider members" in the group and so there was no longer anyone to bully. There was also no longer any "grey mass" occupying some kind of middle ground, feeling afraid of, or being complicit with the bully (unconsciously) to save their own skins.

Making the group leader more aware of equality increased quality of life for the entire group. It resulted in a greater feeling of security, a greater sense of responsibility, and increased self-esteem for everyone in the group.
Since Kajsa is dyslexic, she also tends towards creative solutions that open up completely new opportunities for both students and teachers in schools in a unique way. She is also a co-author of the book Mina bästa sidor är ordblinda - 9 kända svenskar som har lyckats tack vare sin dyslexi (My best sides are word-blind - 9 famous Swedes who have succeeded thanks to their dyslexia.).

Order book from Adlibris
Mina bästa sidor är ordblinda
184 SEK incl. VAT

Order book from UR
Mina bästa sidor är ordblinda
204 SEK incl. VAT